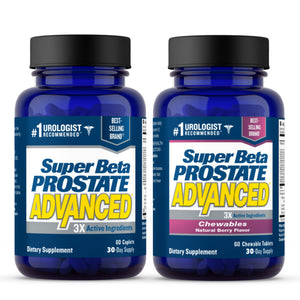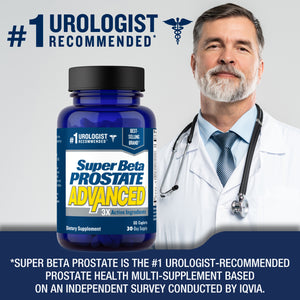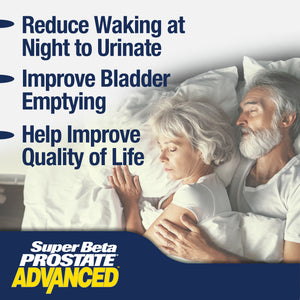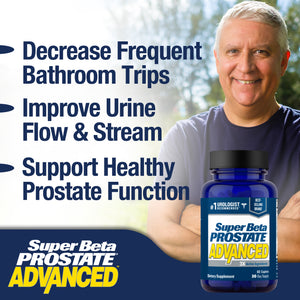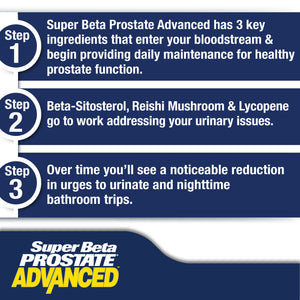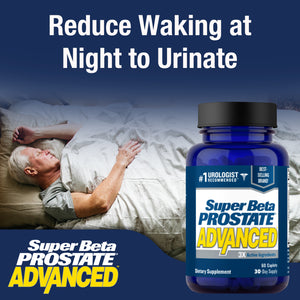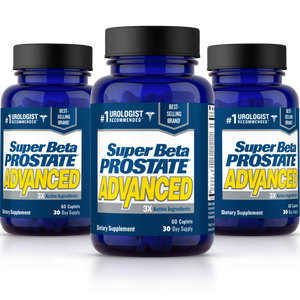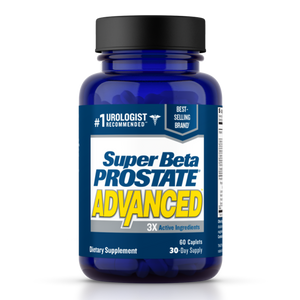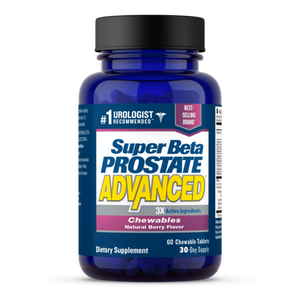 Product image 1

Product image 2

Product image 3

Product image 4

Product image 5

Product image 6

Product image 7

Product image 8

Product image 9

Product image 10

Product image 11

Super Beta Prostate Advanced Specials
Super Beta Prostate Advanced® Benefits
Decrease Frequent Urges to Urinate*
Reduce Waking at Night to Urinate*
Promote Better Bladder Emptying*
Support Healthy Prostate Function*
Product Info
Powerful Prostate Support from the #1 Best-Selling Brand
When it comes to prostate health, all men know they should take it seriously, but how can you tell the products backed by real science from all the fakes out there?  Super Beta Prostate  Advanced uses only clinically tested ingredients at the correct amounts, so that you can feel confident with what you are putting in your body.  This means real, dependable prostate support so you can spend more time enjoying your life, instead of in the bathroom.
Always looking for the closest bathroom... just in case?
This doesn't have to be a normal part of your life! Despite what you may think, constant urges to urinate doesn't have to be a permanent problem.  Super Beta Prostate Advanced is the perfect formula for men who want to reduce those frequent, frustrating bathroom trips - both during the day and the night.  It was made to be a supplement for every man and we're confident you'll notice the benefits of these amazing ingredients.
Our most advanced prostate support formula!
Super Beta Prostate Advanced takes prostate health to the next level with a special blend called ProstaFend™, made up of 3 powerful ingredients that each support your prostate in their own unique way. It of course contains beta-sitosterol which helps to reduce urges to urinate throughout the day and night- this is the key ingredient that has made our original Super Beta Prostate formula the #1 best selling prostate with over 10 million bottles shipped!  The formula is then balanced with reishi mushroom extract and lycopene, that further helps promote a healthy prostate.
Now Available in Easy Chewables!
Since its inception, Super Beta Prostate has been offered in a caplet form. Now, there's all new Super Beta Prostate Chewables to make supporting your prostate even easier! These chewables have all of them same ingredients as the caplets, including the triple-action ProstaFend blend. Even better, they have a natural berry flavor that's so tasty, you might forget you're taking a supplement!
*These statements have not been evaluated by the Food and Drug Administration. This product is not intended to diagnose, treat, cure or prevent any disease.
Ingredients
FAQs
What is Super Beta Prostate Advanced?
Super Beta Prostate Advanced is a dietary supplement from Super Beta Prostate, the #1 best-selling prostate supplement in America.‡ While the classic Super Beta Prostate formula has a powerful key ingredient to support prostate health, our advanced formula has THREE key ingredients, each working in a different way to promote healthy prostate function.
This blend is called ProstaFend®. In this blend you'll find beta-sitosterol, reishi mushroom extract, and lycopene to provide a triple-action approach for your urinary and prostate health. It also includes important nutrients for the prostate such as zinc and selenium as well as a 200% of your daily value of vitamin D.
What makes Super Beta Prostate Advanced different than other products on the market for prostate health?
We love answering this question! When you compare our advanced formula with others, you may notice a couple of things. One: many other formulas take a "kitchen sink" approach and throw in every ingredient they can think of, which might include ingredients that are completely ineffective or based on folklore. Two: these brands keep production costs down by only including a little bit of each ingredient. Super Beta Prostate Advanced only has ingredients backed by promising research, and we only use amounts that meet or exceed that research. Three: Super Beta Prostate is the multi-supplement brand recommended most by urologists!
What is beta-sitosterol?
Beta-sitosterol is a natural plant sterol found in many fruits and vegetables, but in relatively low doses. Multiple clinical studies have shown that beta-sitosterol can reduce common urinary issues, improve urine flow, and reduce urges to urinate. We've found that many other prostate supplements either miss out on beta-sitosterol or include an amount that's too low to be effective. We feel this ingredient is important in urinary and prostate care for men, and that's why Super Beta Prostate Advanced has an amount of beta-sitosterol that exceeds the clinical trials.
What is lycopene?
Lycopene is a carotenoid, a pigment created by plants. Lycopene is most commonly associated with tomatoes and has a long history of being used to support prostate health. Furthermore, low lycopene levels are associated with an increased risk of lower urinary tract symptoms in older men. Many prostate supplements include some lycopene on their labels, but if you look at the supplement facts, you'll usually find that they don't have nearly enough of this ingredient to make a real difference. Super Beta Prostate Advanced provides 15 mg of lycopene for more support.
What is reishi mushroom?
Reishi mushrooms are most commonly found in East Asia and have been used in traditional Chinese medicine for over 2,000 years! But more important, an extract from this mushroom has been shown to support healthy prostate function, and it helps reduce urges to urinate.
Is it safe to take Super Beta Prostate Advanced?
Super Beta Prostate Advanced is not a drug, and it's considered safe when used as directed. If you are taking a prescription medication or have other concerns, it is recommended you seek the advice of a medical professional before beginning any new health regimen.
What is the recommended dosage for Super Beta Prostate Advanced?
The suggested dosage is two a day. It is recommended you take one in the morning and one caplet in the evening.
Do the Super Beta Prostate Advanced chewables have the same active ingredients as the caplets?
Yes. The chewables have all of the same prostate-supporting ingredients—including the exclusive ProstaFend blend—in the same amounts as the caplets.
What do the Super Beta Prostate Advanced chewables taste like?
The chewables have a natural and pleasant berry flavor.
How long will one bottle last me?
Each bottle of Super Beta Prostate Advanced contains 60 chewables and will last 30 days.
After I start Taking Super Beta Prostate Advanced, when will I notice improvement?
Everyone's body is different, so it all depends on how your body absorbs and reacts to the ingredients in Super Beta Prostate Advanced. Remember, this is a nonprescription formula made with ingredients that work WITH your body. We strongly encourage men to take it for at least 60 days before deciding whether it works for them.
Is Super Beta Prostate Advanced guaranteed to work?
Every product we sell comes with our 30-day return policy. If you have purchased product from us and you wish to return your purchase, return the opened product with any sealed product within 30 days, beginning on the date of delivery, and you'll receive a prompt and complete refund of your purchase price, less shipping and handling.