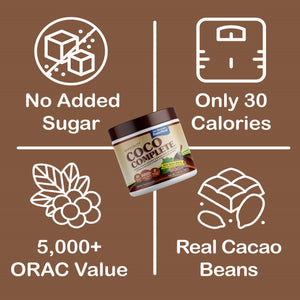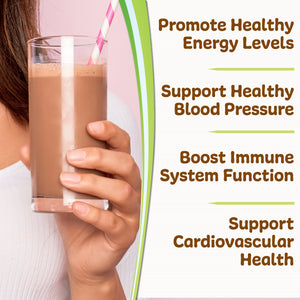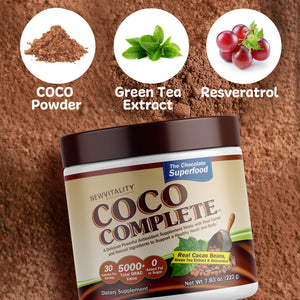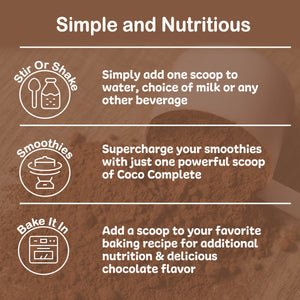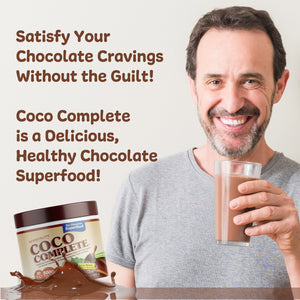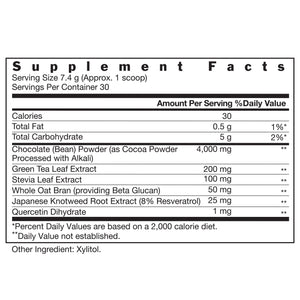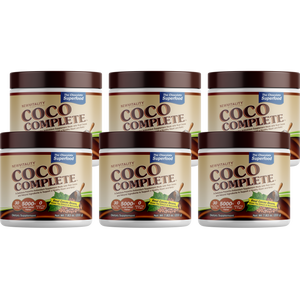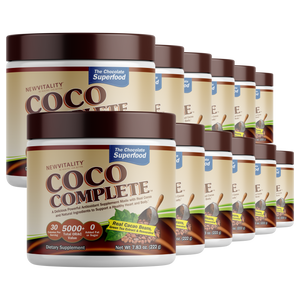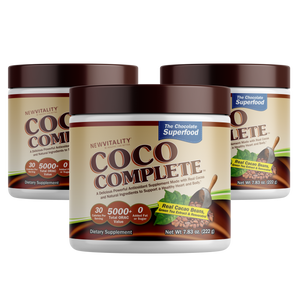 Product image 1

Product image 2
Product image 3

Product image 4

Product image 5
Product image 6

Product image 7

Product image 8

Product image 9

Product image 10

Coco Complete® May Help:
Promote Healthy Energy Levels*
Support Healthy Blood Pressure*†
Support Cardiovascular Health*
Promote Immune System Function*
Product Info
From Pleasure Food to Health Food!*
Chocolate is one of life's most misunderstood foods. It's too often considered an unhealthy indulgence. Just the opposite is true when you drink pure cocoa powder extract. In every cup of Coco Complete you're getting 4,000mg of concentrated cocoa that offers a powerhouse of antioxidant protection against free radical damage.
Coco Complete is a Concentrated Cocoa Powder Extract
Coco Complete is a concentrated cocoa tea blend. It's not milk or dark chocolate bars, chocolate candies, chocolate ice cream or chocolate syrup. As a matter of fact, it's not really chocolate at all. It's pure heart healthy cocoa.
Formulated With Cocoa, Green Tea and Resveratrol to Support Cardiovascular Health
We've increased the health promoting benefits of Coco Complete by adding green tea and resveratrol to the cocoa. This unique combination of antioxidants and cocoa powder extract supports cardiovascular health, arterial health, healthy blood flow as well as digestive health.  It may also provide support for the immune system and may help promote healthy energy levels.
Low in Calories, High in Health Support*
The best part of it all is that Coco Complete is low in calories (only 30 calories per serving compared to 393 calories for a 2.6 oz chocolate bar) and it tastes delicious. Use it as a healthy and delicious low calorie treat and cut hundreds of additional calories a day. Coco Complete powder extract is delicious and nutritious whether served as a hot cocoa beverage or as a refreshing cold cocoa drink. Mix it into yogurt or make it a healthy satisfying ingredient in your favorite Smoothie.  See for yourself; check our supplement facts and ingredients against your favorite brand of cocoa. You'll see that Coco Complete powder extract is the healthy choice.
†Already in normal, healthy ranges.
Ingredients
FAQs
Ever since I was a child, my mother, teachers, doctor and dentist have told me that chocolate was a junk food. Now you're saying it's healthy. Who am I to believe?
They were right that eating a lot of high sugar/high fat chocolate candy bars is not healthy. Coco Complete, however, is not a candy bar and it's NOT high in fat or sugar. There is a significant body of scientific research showing that cocoa can support energy, healthy blood flow, heart health and a healthy immune system. Coco Complete gives you the delicious chocolate taste you crave along with all of the health- promoting benefits of cocoa.
Doesn't all cocoa come from the same source?
Yes, but that's where the similarity ends. Chocolate bars, chocolate candies, chocolate ice cream and chocolate syrup are made with fats, sugars and often preservatives.
What makes Coco Complete different?
Coco Complete has concentrated cocoa, not chocolate. It has an ORAC value of 5,250 units per 7.4 grams - which is higher in antioxidant protection than many common fruit and vegetable in the American diet.
What exactly does ORAC mean?
ORAC, a standardized test adopted by the U.S. Department of Agriculture stands for Oxygen Radical Absorbance Capacity. The higher the ORAC value, the greater the antioxidant power.
What do antioxidants do?
Just as oxidation causes destructive rust on a car, oxidation also damages our cells. Without antioxidants to fortify the immune system and fight off cell damaging free radicals, the body is at risk.
Coco Complete has resveratrol. What is it?
Resveratrol is one of the antioxidants in grapes that is believed to help support cardiovascular health.
Doesn't red wine contain resveratrol?
It does, but the resveratrol in Coco Complete can give you the cardio-support benefits without the potentially harmful side effects of drinking excessive amounts of alcohol.
I drink a lot of green tea. Does that mean I have to drink a lot of Coco Complete to get the same health benefits?
The green tea in Coco Complete is concentrated, so you're getting the polyphenol antioxidant equivalent of up to 3 traditional cups (5 ounces each) of green tea with each serving of Coco Complete.
These statements have not been evaluated by the Food and Drug Administration. This product is not intended to diagnose, treat, cure or prevent any disease.
†Already in normal, healthy ranges.