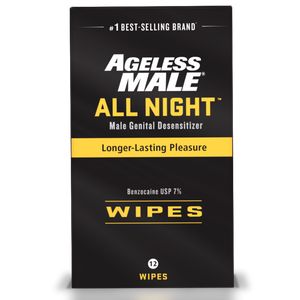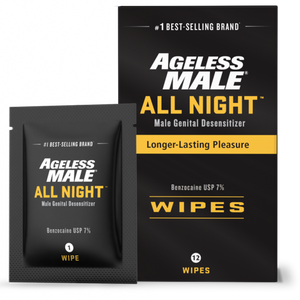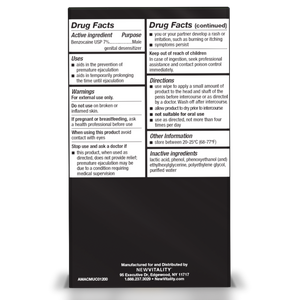 Product image 1

Product image 2

Product image 3

12 Rapid-Action Wipes

Male Genital Desensitizer - Prevent Premature Ejaculation

Improve Your Endurance

Compatible with Latex Condoms
Product Info
Prevent Premature Ejaculation: Each wipe contains a medicine to desensitize the genital region and slow the onset of ejaculation. In other words, these wipes "turn down the volume" on your overstimulation, helping to prolong the pleasure for both you and your partner.
Rapid-Action: These wipes go to work immediately. Simply apply, and within minutes you'll be ready to go. You'll still feel all of the pleasurable sensations that follow, and you'll both feel them for longer!
Compatible with Latex Condoms: Many similar wipes on the market use lidocaine to work, but lidocaine is NOT compatible with a condom. The benzocaine in Ageless Male All Night is compatible with a non-lubricated latex condom.
Improve Your Endurance: Whether you're looking to ward off premature ejaculation—or you just want an extended experience—Ageless Male All Night is your path to lasting pleasure. 
Ingredients
FAQs
How many wipes are in each box? There are 12 individually wrapped wipes in each box.
What is the active ingredient? Benzocaine USP 7%, a medicated male genital desensitizer.
How do I use Ageless Male All Night? Simply apply the wipe to the head and shaft of the penis prior to intercourse. Allow time for the solution to dry. After intercourse, wash off any remaining benzocaine. 
How long does it take to work? The effects should be virtually immediate!
Will I still be able to feel pleasure? This will reduce overstimulation without erasing stimulation altogether. Not only will you feel pleasure, but you'll feel it for longer as you'll be able to extend your performance!
Will the medication rub off on my partner? As long as you use as directed and allow a moment for the medicine to dry after application, it should not rub off on your partner.
Can I use Ageless Male All Night wipes with a condom? You can use these wipes with non-lubricated condoms.